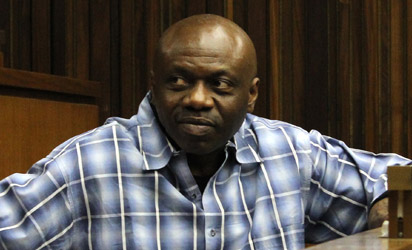 A South African court yesterday convicted Henry Okah of 13 terrorism charges, including conspiracy to commit terrorism and bombings that killed 12 people in Abuja on October 1, 2010.
"I have come to the conclusion that the state proved beyond reasonable doubt the guilt of the accused," said Judge Nels Claassen, while handing down the verdict in the South Gauteng High Court.
The South African court, which tried Okah under counter-terrorism laws that cover crimes committed outside the country, is due to sentence him on January 30.
Prosecutor Shaun Abrahams told AP news agency that Okah faced life in prison. South Africa worked closely with foreign law enforcement agencies "to make sure justice is done in Africa. This [conviction] is clearly indicative that South Africa cannot be seen as a safe haven for international terrorists," he said.
Okah was found guilty of masterminding attacks including twin-car bombings that killed 12 people in Abuja on Independence Day in 2010 and two explosions in March 2010 in the southern Nigerian city of Warri, a major hub of the oil-rich Delta region.
The Movement for the Emancipation of the Niger Delta (MEND), a group fighting for a greater share of the Delta oil wealth, claimed responsibility for the attacks.
Okah denied involvement in the blasts and said the charges were politically motivated.
He also denied leading MEND, but had said he sympathised with their goals,moved to South Africa after Nigeria issued an amnesty for MEND members in 2009, lifting charges of gun-running and treason against him.